We like podcasts, and we like wildlife*. We like cities too, and we want to wrap it all up to make the kind of podcast we'd dig listening to. Nature is something we can learn from and enjoy whether we're in the middle of a wilderness area or at 2nd and Spruce.
In each episode we talk to experts and amateurs about whales, trees, coyotes, snakes, and other critters, and sometimes we cover our own urban expeditions and experiments.
Yeah, we're in Philly, but we do stories about urban wildlife all over the world. Want to talk about the Unholy Trio of starlings, house sparrows, and pigeons? Scorpions in English train stations? Harpy eagles eating feral cats? Drop us a note at urbanwildlifecast@gmail.com. (if you've got a photo of a harpy eagle flying through the air with a feral cat, for real, we need to talk to you).
Billy (a.k.a. Bernard) Brown has been herping Philadelphia since 2004, wrote the Philly Herping blog for 7 years, and spent over 5 years writing about urban natural history topics for Grid Magazine. He also leads herping walks, coordinates the Pennsylvania Amphibian and Reptile Survey for Philadelphia, and tries really hard to learn about non-herps too.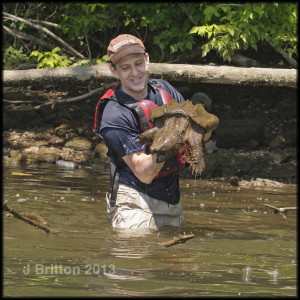 Tony Croasdale is a native of Philadelphia. Growing up in Philly's row houses, the city's parks and abandoned lots were his backyard. He started birding at about nine years old after his folks brought him to Philly's Pennypack Environmental Center where he learned about Belted Kingfishers. He is a graduate student at St Joseph's University studying  invertebrates on native vs. alien shrubs. Tony has performed field research in the Canadian Arctic, Alaska, Brazil, Peru, and in the Mid-Atlantic. He was the singer of R.A.M.B.O., a hardcore punk band that toured ~35 countries in North America, Europe, Australia, and Asia. He birded extensively while on tour. Tony works as an environmental consultant focusing on education and outreach.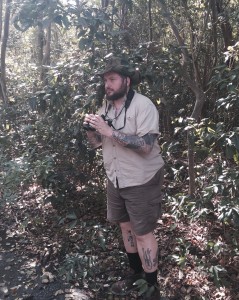 Our theme music was performed by Mancrusher: (left to right) Jake Smith, guitar; Liam Wilson, bass; Tony Croasdale, vocals; Patrick Forrest, drums; Steve Roche, recording engineer (not pictured).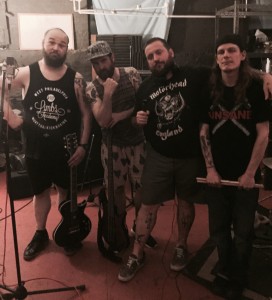 *We do not limit "wildlife" to just animals. Plants, fungi, etc. all count too.