(FT Christian Hunold)
Which is the better gateway drug to nature, squirrels or hawks? Christian Hunold, wildlife photographer and Associate Professor of Political Science at Drexel University joins us to talk about red tailed hawks and ecological citizenship as we listen to an interview with Steve Sullivan, Senior Curator of Urban Ecology [for real – how awesome is that job title?] and director of Project Squirrel at the Chicago Academy of Sciences' Peggy Notebaert Nature Museum.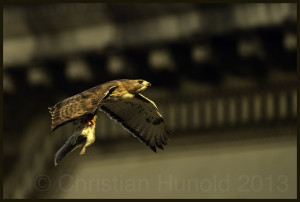 And since Christian sort of dared us into it, here's a squirrel stew recipe.
Podcast: Play in new window | Download