(FT Michael McGraw and Matthew Halley)
In this episode Billy talks to one of his literary idols, Thomas Palmer, about Palmer's classic Landscape with Reptile: Rattlesnakes in an Urban World, and to rattler researcher Anne Stengle about the current state of the rattlers of the Blue Hills.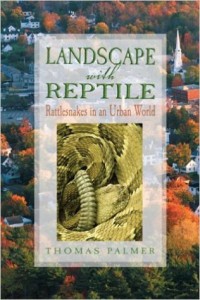 The hosting crew (Billy and Tony, Matthew Halley, and Mike McGraw) had a great time talking/arguing about urban rattlers, island effects, and even facultive parthenogenesis.
*Although in Episode 2 we said the next episode would be about the Pier 53 Skinks, we decided to make that recording a special episode at the end of this season. Stay tuned for that extended, extra-loose edition.
Podcast: Play in new window | Download